Best of Alpe Adria 2015 in a castle. The third international food and wine festival of Italy, Austria, Slovenia and Croatia.
Friday, 1st May 2015, Castelbrando TV
With the patronage of Expo 2015 – Italy hall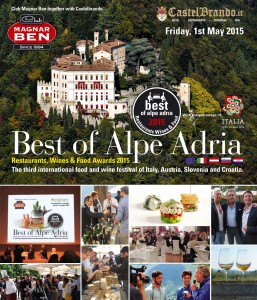 Club Magnar Ben, cultural association founded by Maurizio Potocnik to promote food and wine culture of this unique land is ready for a new great event to celebrate Alpe Adria area: 9 regions in 4 frontier countries (Italy, Austria, Slovenia and Croatia).
Castelbrando, one of the biggest and oldest castle in Europe, brought to new life by the entrepreneur Massimo Colomban, will be the charming location of this kermess, for the second time.
From 10.30 AM to 7.30 PM in the panoramic courtyard of the castle, guests will enjoy no-stop wine tasting with 100 wines from the Alpe Adria Region (Franciacorta, Trento Doc, Lessini Durello, Amarone, Prosecco Docg, Collio, Carso, Istria, Slovenia, Austria).
The event gathers up 50 selected producers of cheeses, coldcuts, biological products, meat, fish, local products, artisan beers, typical pastries, oils, pizzas and gourmet street food. Furthermore, guests will have the chance to taste special dishes signed by some excellent restaurants of the region: restaurant "La Stella" (Meduno, PN), awarded in 2015 as "Best land-food restaurant"; restaurant "Ai Nove Castelli" (Faedis, UD), "Eat's Bistrò" (Conegliano, TV), recently praised for two of its recipes on national Italian TV.
From 11.30 AM to 3.30 PM a rich agenda awaits you, with 5 unmissable appointments with Alpe Adria producers:
11.30 AM: Elena Parovel will introduce the Carso region oil, with an interesting oil tasting lesson.
12.00 PM: "The art of making cheese" – a debate between cheese-makers from Friuli Venezia Giulia, Lombardia and Tuscany, with Sante Rugo, Claudio Bucelli and Eros Scipiani.
1 PM: "The excellence in Prosciutto crudo" – Stefano Montali introduces one of the best italian prosciuttos: the crudo of S. Ilario di Lesignano.
2 PM:  "Jams and biological products", with Michele Luccisano and Rocco Pignataro, owners of the new gourmet products Kalogea.
2.45 PM: "The vineyard is Rock", with Marco Simonit from Simonit & Sirch, the personality who is changing the approach to viticulture.
4 PM: Best of Alpe Adria International Awards 2015, already announced in the XIX edition of "Magnar Ben 2015" guidebook. This year 29 producers will be awarded: 15 come from the food world, 14 are winemakers. The editor Maurizio Potocnik himself will give the awards, together with journalist team 2015 (Morello Pecchioli, Francesco Lazzarini, Furio Baldassi) and Wladimiro Gobbo, who selected 200 great Alpe Adria wines in 2015. It will be possible to meet chefs and winemakers who made history, but also young talents of this unique land.
At 8.30 PM, the day will end in the XVI century Sansovino room with the "Alpe Adria Gran Gala", a special dinner prepared by 5 chefs, accompanied by 5 great wines.
The Sansovino Restaurant in CastelBrando, masterly managed by Tonino Palazzi and the executive chef Marco Buosi, will host 4 chefs of the Alpe Adria region to create a dinner dedicated to food in the High Adriatic Sea regions and wild herbs. Behind the stoves for this special occasion there will be, of course, chef Marco Buosi from Ristorante Sansovino-Castelbrando (Cison di Valmarino – TV), the 22-year-old Andrea Leali from Pijei Restaurant (Salò del Garda – BS), Davide Botta from Ristorante Locanda l'Artigliere (Isola della Scala – VR), awarded as "Best Locanda 2014", Daniele Zennaro, chef at Ristorante Vecio Fritolin (Venezia), specialized in Venice lagoon wild herbs and chef Stefano Basello of Ristorante Il Fogolar di Là di Moret (Udine), awarded for "Alpe Adria Best Dish 2015".
For information or booking for the Gala dinner please contact:
Club Magnar Ben Editore
Phone 0039 0438 21574
info@magnarben.it
www.magnarben.it
www.facebook.com/magnarben